Whether you're hitting the slopes, the beaches, planning spring break or exploring new places abroad, here are quick tips from travelers and industry experts on getting ready:
1. Double-Triple Dare You
Triple-check your reservations before heading out the door (airplane, hotel, rental car, any other tours or trips). Nothing's worse than getting to your dream location and finding that not only is your hotel reservation lost, but everything else is fully booked.
WHN TIP – Help Your Family Find You in an Emergency: Send copies of your trip itinerary, hotel and resort contact numbers with family or friends so they know how to contact in case of an emergency (and you're not picking up your phone).
2. Hotel Tasks
When you arrive at your hotel, here are two tasks to do ASAP – take a picture of
The hotel entrance (include the name in the photo) so you recognize it later (Lots of hotels look the same, and there are many named Hilton, Westin, and Holiday Inn.)
Your room number – in case, late at night, your memory escapes you (for reasons we won't mention here).
3. Health Check
Bring your meds and health insurance card just in case.
WHN TIP – Your IDs: Take photos of your IDs (and passport if you're going overseas), store them in the cloud and email them to a relative or friend. Having copies may speed up the replacement/temporary ID process.
4. Financial Security
Bring an emergency credit card in case your purse or wallet is lost or stolen. Keep it in a separate and secure location. (Do NOT bring every credit card you have on vacation. It's too easy to lose them.)
WHN Reader TIP – Leave the Rings at Home: "We have 'travel' wedding bands so we don't lose the good stuff, which, admittedly, we've done in the past." Susan, Minnesota
 5. Driving?
Allow yourself plenty of time to get to where you're going.
6. Flying?
Remember the ever-changing, sometimes expensive carry-on rules. Not sure what to pack in your carry-on? Read our Air Travel section for tips.
7. International plans?
Make sure to check out the Countries and Regions section on the U.S. State Department website for country overviews, as well as travel warnings, regarding locations and issues of concern for Americans traveling abroad. The State Department Travel section has links to useful information.
Print out or email the U.S. Embassy city contact information to yourself and friends regarding the countries you'll be in and keep this with you at all times. Why? In case you lose your passport or there's an emergency, you may need to find the embassy. Leave a copy or an email of the embassy list with a friend at home for backup and consider inputting the numbers into your phone for quick use.
WHN TIP – Check Health Notices: Going out of the country? Then check the CDC's Travel Health Notices page to learn about current health issues related to specific international destinations.
8. Screenshot notifications as you turn them off
Turning your notifications off for vacation? Screenshot your notification preferences for each app before you switch them all off, as seen in the image below. This will save you the time and frustration of trying to remember how they all were after you return from your trip.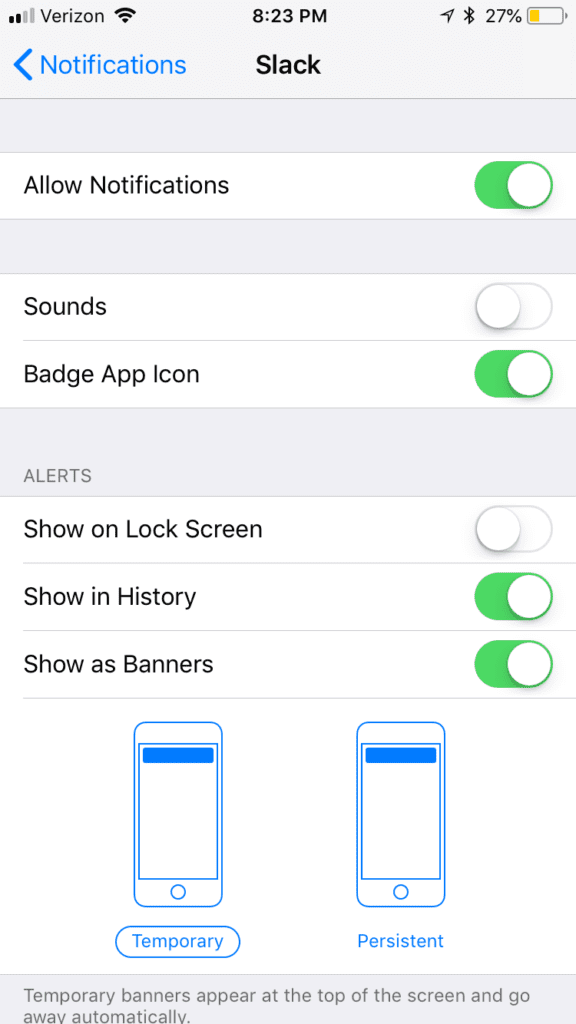 9. Safety In Numbers
Traveling with others? Add each other's numbers into your cell phones.
WHN Reader TIP –Follow Me: An app like Find My Friends is a good way to keep track of friends, kids and parents while on vacation.
10. What Time Will You Be Back?
Going out on an errand or walk? Make sure to mention where you're going and when you'll be back. If you are traveling alone, notify the desk clerk when you're leaving and check in when you return.
WHN TIP – Risk Reduction: Never leave luggage or personal belongings unattended in a public area.
11. Apps.
Add apps! Airlines, car services, tourism, bike rentals and hotels have apps. Find what works for your travel plans
Have fun!!!
Photo Credit: Annie Niemaszyk