Visiting a College: Questions to Ask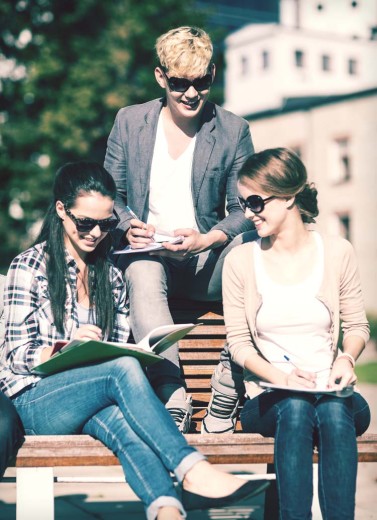 Heading out to check out colleges? First, do these two steps:
Do Your Research.
Visit the school's website for information providing an overview of the school's costs, curriculum and overall student life. (Most schools' Web site addresses have an '.edu' domain name instead of '.com' — i.e. www.princeton.edu or www.harvard.edu).
Use searchable lists of colleges such as at US News & World Report's Best Colleges page and at CollegeStats.org.
Prepare Your Notes.
Write down questions for each school you're visiting.
Bring a notebook or tape recorder to write down your impressions.
Use your cell phone to vidoe or photograph the campus, dorm rooms, classrooms and social areas. You can use these to compare schools.
Questions to Ask
Now that you're ready, here is a "starter list" of questions to ask when you visit or talk with a college. Feel free to omit or add questions of your own to the list.
Majors – what majors are offered?

What are the most popular majors?
What are the least popular majors?
What if I'm undecided about my major?
When do I have to declare a major?
Can I change my major? When?
Are any departments in danger of being cut?

What are core curriculum requirements?

Will I have to complete courses in all or many different disciplines – social sciences, math, science, the arts, languages, etc.? If so, which ones?
What are the graduation requirements?

Advisors

Will I have a faculty advisor?
If not, whom can I turn to for help with managing my studies?
Can I choose or change my advisor?
Is advising required before registering for classes each semester?

Classes

What's the average class size?
Is there a general teaching style at this school (i.e. strong emphasis on self-directed studies, lecture format, group projects)?
Are classes more discussion-based or lecture-based?
What percentage of classes are taught by grad students instead of professors?
Do you have any tutoring programs?

Internships and Careers

Do you have internship programs? How many? In what areas?
Can I receive credit for these programs?
Is there a career center on campus?
What about job placement services for graduating students?
What is the placement rates for each area?

Study Abroad

What programs are available?
Are there eligibility requirements?
Do certain majors require spending time abroad?
How much does the average program cost?

Transferring and Retention

What's the transfer rate? What year are students transferring?
On average, how many years does it take students to graduate?

Costs and Payment

What are the general costs?
What are the other fees such as for the student union, activity fee, facility fee, lab fee? Are they included in the tuition or separate?
What is the average increase in tuition, fees, and room and board costs?
How are these paid for and what are their payment plans?

Financial Aid

What are tuition payment schedules?
What scholarships, grants and loans are available?
Do you have work-study or job programs?
When will I be notified about my financial aid package?
Can I appeal the aid being awarded?
Is there a GPA requirement for financial aid?
Does living off-campus affect my financial aid?
When do I apply for a renewal of financial aid?

Health & Well Being

Where is the health center?
How far is the health center from the dormitories?
What are the operating hours of the health center?
Is a doctor always on call?
Who staffs the center and what are their credentials?
Do you offer counseling programs or support groups?
How can I make an appointment?
What are the health requirements?
What forms do I need to fill out?
What are the costs?
Does the college offer health insurance coverage?
Will our family's current health insurance be accepted at local hospitals and the college health center?
Does the health center refer to a nearby hospital? Which one?
Which hospital will I be taken to in an emergency?
Will the campus transport me when I'm sick, or will I have to walk?

Security & Safety

Do campus shuttle buses run at frequent intervals all night?
Does the school provide student escorts to accompany students walking on campus or to off-campus housing late at night?
Are "blue-light" telephones liberally placed throughout the campus to use to call for help?
Who provides campus security? (Contracted or on-site?)
Does campus security patrol campus regularly?
How much crime is there both on and adjacent to campus?
Does the dormitory have a sprinkler system and fire extinguishers?

Campus Neighborhood

Is the college in a suburban, urban, or rural area?
Is there an actual 'campus' or are buildings spread out in different areas of town?
Do the nearby businesses employ college students?
Does there seem to be a positive 'town-gown' (townspeople and college students) relationship?
Are pharmacies, grocery stores, bookstores and laundromats nearby?
Are there interesting restaurants?
What kind of entertainment options are nearby?
Is the center of activity easy to walk to or do I need a car?
Is there public transportation to and from the campus throughout the area?

Dorm Life

Do the dorms close over breaks? Do I have to move out?
Will I be guaranteed on-campus housing?
Do you require that students live on campus for a certain time period? (Some require students to live on campus for the first year or two.)
Do most students live on campus or commute?
What is the ratio between classes (number of freshmen, sophomores, juniors, seniors)?
When do upperclassmen move in?
When do freshmen move in?
Are roommates assigned or can I choose my roommate?
How do you assign roommates?
If I have a problem with my roommate, whom can I talk to about the problem?
Can I change roommates in the middle of the semester?
Are there freshmen and upperclassmen dorms?
Are the dorms co-ed or single-sex?
Are bathrooms coed?
Are there substance-free dorms?
Are there quiet study areas?
Is there a student lounge?
What are the visitation policies in dorms?
Is there a quiet time enforced every night for studying?

Services and Facilities

Are laundry facilities available?
Are there computer and phone hookups in all the rooms?
Will I need to bring my own computer?
If I don't own a computer, are there computer labs available?
Do you have 24-hour labs? Are they located in or near student housing?
Are there computer support services on campus?

Storage

Do you have storage available for breaks or over the summer?
Where is the storage and how much am I allowed to store?
What about study-abroad storage?

Meal Plan

Where is the dining hall?
Is it near student housing?
What are the hours of service?
What meal plan options are available?
How do I pay for the meal plan?
Will you be able to accommodate my dietary preferences (i.e. veganism, diabetes, lactose or gluten intolerance, etc.)?

Other Services

Can first-year students have cars on campus? What is the fee for a parking permit?
Do I need to get a new driver's license if I'm from out-of-state?
Do you offer any airport or other regular shuttles?
Approximately how much spending money will I need? Each week? Each month?
Is there a campus spending account card for things like laundry, school supplies, books, printing and copying, etc.?
Where do I open a bank account?
Where do I collect mail? How do my parents, family and friends send packages?

Activities

What student groups are on campus?
Are students on campus politically active?
In general, is the campus more liberal or more conservative?
Are there sororities and fraternities? Do they play a large part in the school's social life?
What are your most popular social events on campus?
How can I find out about events on campus?

Sports

What kind of intramural sports are available?
What kind of competitive sports are available?
Has the school won any recent competitions or division titles?
Are there athletic scholarships available?
Is there a student gym facility?
Are there physical education classes I can take along with my other core curriculum classes?
After Visiting
After your visit is over, take the time to write down the things you liked about the school and what you didn't like. Do the same for each school you visit.
Compare your notes and pictures of each school to help narrow down your choices.