2 Things to Know About GFCIs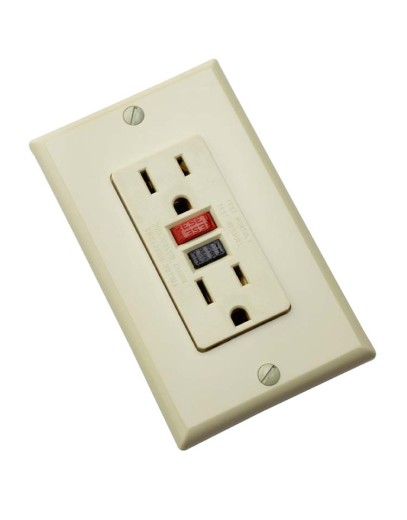 Ground fault circuit interrupters (GFCIs) detect ground faults —  an unintentional electrical path between a power source and a grounded surface. If there is an imbalance in the current, the GFCI "trips" the current, meaning it cuts off the electricity of that outlet. GFCIs prevent electrical shock as well as some electrical fires, and reduce the severity of other fires by interrupting the flow of electric current.
Where to Have GFCIs
The National Electrical Code (NEC) code requires the installation of GFCIs in the following areas:
Underwater pool lighting (since 1968)
Receptacles:

Outdoors (since 1973)
Bathrooms (since 1975)
Garages (since 1978)
Kitchens (since 1987)
Crawl spaces and unfinished basements (since 1990)
Wet bar sinks (since 1993)
Laundry and utility sinks (since 2005)
How to Test GFCIs
WHN TIP – Test Regularly: Test your GFCI outlets every month to ensure they are in working order.
Be safe and be smart. To test the outlet:
Plug a nightlight or lamp into the GFCI outlet.
Turn on the light.
Press the "TEST" button on the GFCI outlet.
The light source or appliance should turn off and the "RESET" button should pop out.

If the light doesn't go out, your GFCI should be rewired. Contact an electrician to replace it.
If the "RESET" button doesn't pop out, the GFCI should be replaced. Again, contact an electrician.

Press the "RESET" button to restore power to the outlet.
WHN TIP – Know Your Appliances/Lamps: Be sure to read the instruction manuals of all small appliances and lamps and the content relating to GFCIs.
Test Tracking Sheet
To make monthly GFCI testing a breeze, print out the test tracking sheet below. Write location directions like "near north window" or "by sink" to help you remember. Also, fill in the test results and the date to help you keep track.
Bathroom #1
GFCI Location #1:__________________________
Passed test? (Y/N):_____________________ Date:_____________
GFCI Location #2: __________________________
Passed test? (Y/N):_____________________ Date:_____________
GFCI Location #3: __________________________
Passed test? (Y/N):_____________________ Date:_____________
GFCI Location #4: __________________________
Passed test? (Y/N):_____________________ Date:_____________
Bathroom #2
GFCI Location #1:__________________________
Passed test? (Y/N):_____________________ Date:_____________
GFCI Location #2: __________________________
Passed test? (Y/N):_____________________ Date:_____________
GFCI Location #3: __________________________
Passed test? (Y/N):_____________________ Date:_____________
GFCI Location #4: __________________________
Passed test? (Y/N):_____________________ Date:_____________
Kitchen
GFCI Location #1:__________________________
Passed test? (Y/N):_____________________ Date:_____________
GFCI Location #2: __________________________
Passed test? (Y/N):_____________________ Date:_____________
GFCI Location #3: __________________________
Passed test? (Y/N):_____________________ Date:_____________
GFCI Location #4: __________________________
Passed test? (Y/N):_____________________ Date:_____________
Basement
GFCI Location #1:__________________________
Passed test? (Y/N):_____________________ Date:_____________
GFCI Location #2: __________________________
Passed test? (Y/N):_____________________ Date:_____________
GFCI Location #3: __________________________
Passed test? (Y/N):_____________________ Date:_____________
GFCI Location #4: __________________________
Passed test? (Y/N):_____________________ Date:_____________
Garage
GFCI Location #1:__________________________
Passed test? (Y/N):_____________________ Date:_____________
GFCI Location #2: __________________________
Passed test? (Y/N):_____________________ Date:_____________
GFCI Location #3: __________________________
Passed test? (Y/N):_____________________ Date:_____________
GFCI Location #4: __________________________
Passed test? (Y/N):_____________________ Date:_____________
Outdoors
GFCI Location #1:__________________________
Passed test? (Y/N):_____________________ Date:_____________
GFCI Location #2: __________________________
Passed test? (Y/N):_____________________ Date:_____________
GFCI Location #3: __________________________
Passed test? (Y/N):_____________________ Date:_____________
GFCI Location #4: __________________________
Passed test? (Y/N):_____________________ Date:_____________
Other
GFCI Location #1:__________________________
Passed test? (Y/N):_____________________ Date:_____________
GFCI Location #2: __________________________
Passed test? (Y/N):_____________________ Date:_____________
GFCI Location #3: __________________________
Passed test? (Y/N):_____________________ Date:_____________
GFCI Location #4: __________________________
Passed test? (Y/N):_____________________ Date:_____________