Mobility Issues? Here's How to Make Your House Safer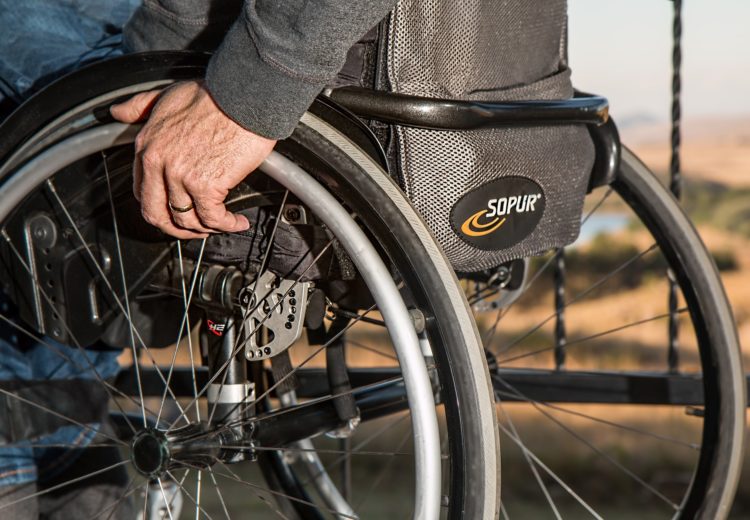 Are you or a family member dealing with unexpected mobility problem from an injury, stroke, aging or other cause?
Here are some basic improvements that will make your home safer and easier to navigate under the circumstances.
WHN TIP – Hire an Expert. While some of the changes can be done by a homeowner, others require professionals such as electricians to complete. When in doubt, bring in the expert!
Toss the Throw Rugs
According to the CDC, Each year, millions of older people—those 65 and older—fall, with one out of five falls causing a serious injury such as broken bones or a head injury. To help reduce the fall risk, clear items from the pathway that can present a tripping hazard. Then consider replacing high-pile carpeting with bare floors or low-pile rugs to make it easier for those using a wheelchair, walker, cane or other assistive devices.
Finally, make sure throw rugs stay anchored to the floor with carpet tape, a nonslip rug pad or by applying a bead of 100% silicone caulking to the back. Easier still— eliminate throw rugs entirely.
Illuminate the Switches and Outlets
Switchplates with integrated LED lights make them easy to find even in the dark. Another option is a motion control sensor that activates a light when someone enters the room, then shuts off either after a certain period of time or when someone leaves.
Improve Access to Everyday Items
Reorganize storage so often-used items are easy to reach. In the bathroom, use a wheeled storage cart to hold toiletries, instead of keeping them in the wall cabinet that can't be easily retrieved by someone in a wheelchair or with limited reach.
WHN TIP – Not for Meds: Don't use the cart for medication, especially if you have children visiting. It will be too easy for them to access it.
Add Grab Bars
Grab bars mounted inside and outside your tub or shower and next to the toilet provide extra support. These need to be mounted to studs to stay anchored and should be at the right height for the person who will be using them. (How to Install Bathroom Grab Bars provides installation tips and illustrations.)
No wall next to your toilet to mount a grab bar? Use toilet safety rails instead. Available in a variety of styles, they attach to the toilet and have a rail on either side to provide support when using the toilet.
Replace Old-Style Door Knobs
According to AARP, changing out round door knobs for lever styles makes good sense since they are easier for someone with weak hands or arthritis to use. All that's needed is to push down on the lever with a fist, elbow or finger. Choose a style with a handle that curves back to the door to reduce the chance of catching a sleeve or purse strap. Other options are lever handle adapter or door knob grippers — both of which fit over existing door knobs.
More Extensive or Long-Term Improvements
If the situation is expected to be more long-term, or you want to renovate now with an eye toward making aging-in-place improvements, here are some ideas to consider:
A ramp will allow wheelchair access into the house and widening doorframes will accommodate walkers or wheelchairs.
Roll-in showers can enable wheelchair-bound persons to access the shower, while handicap-accessible vanities provide knee space for seated users.
Homes with more than one floor may require a stair glide or the installation of a residential elevator. Alternatively, a first-floor room can be reconfigured to serve as a bedroom or bedroom/bath suite.
Kitchen renovations include lowering counters, placing appliances within the reach range, and utilizing lower shelves and cabinets for the most commonly-used kitchen utensils. Pull-out drawers instead of shelves also improve access.
More ideas are available on the Disability Rights New Jersey page.
---
For More Information
Age in Place — This website has a variety of resources to address various aging-in-place issues. Click on Practical Advice to access the housing section for a range of articles,  including one on Making Your Home Senior Friendly. The National Aging in Place Council® is a senior support network, founded on the belief that an overwhelming majority of older Americans want to remain in their homes for as long as possible, but lack awareness of home and community-based services that make independent living possible.
American Association on Health and Disability (AAHD): Assistive Technology — This page has links to a variety of assistive technology information and resources. The mission of AAHD is to advance health promotion and wellness initiatives for children and adults with disabilities. AAHD works to reduce health disparities between people with disabilities and the general population, and supports full community inclusion and accessibility. AAHD accomplishes its mission through advocacy, education, public awareness, and research efforts at the federal, state, and community levels.
American Occupational Therapy Association (AOTA): Aging — This page has videos, brochures and tip sheets that cover topics such as aging in place and other age-related health conditions. The American Occupational Therapy Association (AOTA) is the national professional association established in 1917 to represent the interests and concerns of occupational therapy practitioners and students of occupational therapy and to improve the quality of occupational therapy services.
Council for Disability Rights (CDR): Home Modification Funding Sources — This page has a list of resources that may be able to provide funds to make needed home modifications. On national, state, and local levels, the Council for Disability Rights advances the rights of people with disabilities. The Council promotes public policy and legislation, public awareness through education, and provides information and referral services.
Easterseals and the CENTURY 21® System's Easy Access Housing for Easier Living Program — Easterseals and the CENTURY 21 System's  Easy Access Housing for Easier Living Program provides homeowners with helpful educational brochures, an expert panel with additional resources and easy-to-implement tips for making an accessible home a reality.
Home Advisor: Grants for Home Modification: 16 Resources for Homeowners with Disabilities — This guide provides information on many of the available grants for home modifications, including nationwide and state-specific programs, as well as suggestions on what modifications may be the most rewarding for you.
LAH Live at Home — Click on Consumer to learn more about home modifications and assistive equipment/devices, and links to state, government and other funding sources, products and resources and service providers. LAH, Live At Home, is a nationwide network of independently owned and operated, certified providers and contractors dedicated to providing Accessible Home Modifications, Independent Living Solutions and related products and services.
Paying for Senior Care: How to Make & Pay for Home Modifications to Enable Aging in Place — This website includes home modifications definitions and terminology, common types of home modifications, assessment of types of modification for present and future needs, and financial assistance options. The PayingforSeniorCare.com website and the Eldercare Financial Resource Locator Tool were created and are maintained by the American Elder Care Research Organization. The organization's mission is to assist individuals in the planning and implementing of long-term senior care. The website is designed to help families and caregivers locate information about long-term care resources for their loved ones, and to find the public and private programs available to assist in covering the cost of such care.