Mobile Homes: 12 Disaster Preparedness Tips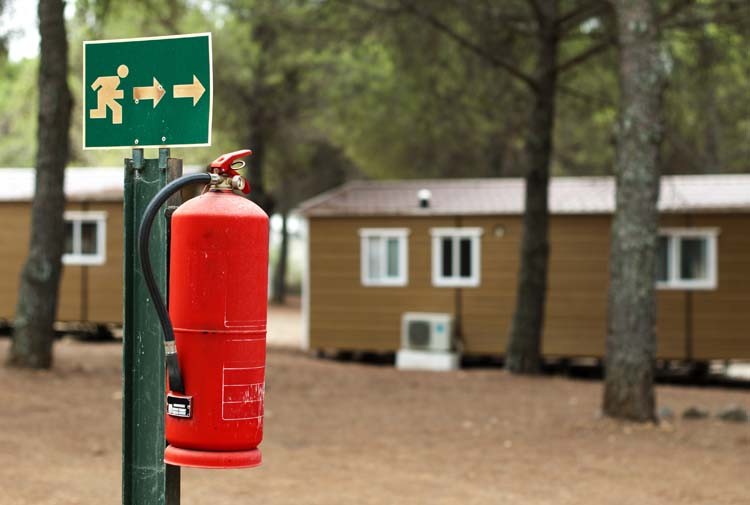 If you're one of the 22 million Americans that call a mobile home "home," you're aware how important disaster preparedness is. In 2008, 45% of tornado-related deaths were people living in mobile homes.
Although older mobile homes seem to suffer the most damage during weather-related disasters, all are vulnerable – especially if the weather is a direct hit, according to Deanna Field, public affairs director at the Manufactured Housing Association of Oklahoma.
So what can you do to protect yourself? Whether you own, rent or vacation in a mobile home, travel trailer or an RV, here are 12 direct actions you can take to improve your home and personal safety. Special thanks to the mobile home owners Pat, Sheila and Elsie, and manufactured home experts across the country for these helpful tips!
Home Improvements and Preparation
1. Secure any items that might be outside your home: lawn furniture, lawn ornaments, mailboxes. Flying debris is a major hazard during high winds.
WHN Reader TIP – Tie It Down or Bring It In! List all outside items you'll need to grab and bring inside or tie down if a storm is on its way.
2. Review your insurance policy to make sure you're covered for certain disasters (flooding isn't usually included). Don't have insurance? Mobile home owners can purchase insurance – either homeowners' or renters' insurance.
WHN Expert TIP – Insurance Discount Opportunities: Some insurance companies might offer discounts if you install disaster-resistant items or make home improvements (shatter-proof windows, shutters, earthquake proofing, roofing reinforcements, etc.). Ask your agent which items might help you save on your premiums.
3. Check to see if your mobile home anchoring meets manufacturer specifications (check your home's manual) and state building code specifications along with those of the county you live in.
Not sure? Hire a certified technician to inspect your home and anchoring system and recommend improvements – this will cost $100 or so. Check with your state's manufacturing home association to find a licensed technician.
WHN Expert TIP – County Code Can Vary: "Check with the county first," says Jenifer Jordan, of Mobile Home Angels, Inc. in Lantana, FL selling new and used mobile homes. "County codes change individually and you can't get a certificate of occupancy unless your home is up to code."
4. Make sure your home has good skirting: the material that encloses the bottom of the home but still allows air to flow through, keeping the bottom of the home dry. Having an enclosure around the base of your mobile home can help prevent the wind from coming underneath the vinyl siding and beginning to remove it.
WHN Expert Tip – Update Older Homes: If your mobile home is an older home – 30+ years – consider making additional improvements. "Generally it's the older homes that see the most damage, like those from the 1970s or before. The newer ones are built to code," says Jordan. "Here in Florida, the homes need to be in wind-zone 3, which will withstand winds up to 110 miles per hour."
5. New or old, evaluate your home improvement options. Download the Federal Emergency Management Agency's (FEMA) Protecting Manufactured Homes from Floods and Other Hazards for tips.
6. If you live in Tornado Alley, consider getting a storm cellar, which is a reinforced underground shelter where residents can go for protection from a storm or tornado. They can be installed for $5,000. Check with your park and county first before making any additions.
7. If you live in hurricane-prone areas, buy boards now to protect your windows. Use 1/2 inch plywood – marine plywood is best – cut to fit each window, with pre-drilled holes every 18 inches for screws. Remember to mark which board fits which window.
8. Add a disaster preparedness kit. (Make a kit if you don't already have one!) and a NOAA weather radio to your home. At any time of day, a NOAA weather radio alerts you to the tornado, hurricane or severe weather warnings. You can purchase radios at big box stores, hardware stores and online. Get yours early!
WHN Expert TIP – Keep Informed: "We believe that weather radios aren't just for those who live in the area of a possible tornado," says Bruce Savage, V.P. of Public Affairs at the Manufacturing Housing Institute. "You should have a radio regardless of where you live."
9. Make an escape plan for your home and an evacuation plan should you need to (or are ordered to) leave your neighborhood or city.
10. Teach your family where the nearest storm cellar or safe shelter is located and that it is only used in emergencies.
Don't know where it is? Ask your park administration or contact city officials.
None onsite? Find another safe structure (built with solid walls and foundation, no windows, sturdy, etc.) that you can reach in a matter of minutes.
Inspect the shelter before you'll need to use it. If it's frequently locked, ask the park administration about who's responsible for unlocking it in an emergency situation. If the shelter appears unsafe, notify city or county officials about the problem. You can also contact the National Manufactured Home Owners Association (NMHOA) in your state.
11. Get to know your neighbors. You might need their assistance or need to help them in an emergency situation.
12. Undertake additional preparations for specific emergencies such as wildfires, floods and hurricanes.
During Emergencies
Listen to the local TV and radio stations for watch and warning information for tornadoes, hurricanes, floods or blizzards.

If a tornado or hurricane watch is issued, watch for changing weather conditions.
If a tornado warning is issued, head to your storm cellar, shelter or other safe structure to ride out the storm.

Close your windows and shutters.
Secure or store any lawn ornaments, trash cans and other items that could become projectiles in high winds.
If told to evacuate, do so.
---
For More Information
HUD: Manufactured Housing and Standards — The Manufactured Housing Program is a national HUD program established to protect the health and safety of the owners of manufactured (mobile) homes.
Consumer's Union: The A B C's of buying a mobile home — information on sales practices, financing, plumbing and warranties.
National Consumers Law Commission – Guide to Mobile Homes — The NCLC Guide to Mobile Homes details how to buy a mobile home, how to tell which homes to avoid, and what to do after you purchase your home.
Thank You…
Special thanks to:
Deanna Field, public affairs director, Manufactured Housing Association of Oklahoma
Jenifer Jordan, Mobile Home Angels, Inc., Lantana, FL.
Bruce Savage, V.P. of Public Affairs, Manufacturing Housing Institute.
Mobile homeowners: Elsie, Sheila and Pat.