Home Break-In – What to Do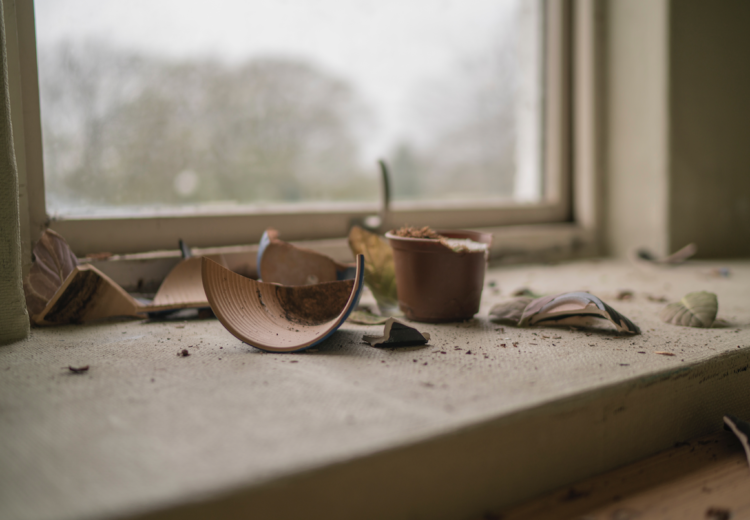 WHN TIP – Advice from Experts: If your home is broken into, the police will ask you questions to try to ascertain who might have done it. If you witnessed someone suspicious, this podcast has tips for describing a suspect.
If You Suspect a Burglar
Be safe, be smart.
Do NOT go into your home.
Go to a neighbor's house to call the police.
Call the police. Be ready to provide the following information:

Your name
Address
Phone number
What happened and when? Describe the event as briefly as possible and tell the dispatcher if the crime is in progress or when it occurred.
Did you recognize the person?
Where did they go, which way and how did they leave (on foot, car)? Name or describe the suspect or getaway vehicle, if there is one.
What was taken?

Wait for the officer to arrive or to call you back.

The time it takes for an officer to arrive will depend on many factors. All calls are prioritized by emergency status. A theft of a lawn mower may be important but it is not an emergency.

Wait until the police arrive before you enter and begin to take an inventory of what is missing. In the meantime, don't touch anything. The police may dust for fingerprints. Read or print out our Home Inventory List to help jog your memory about what was in each room.
When the officer arrives, he or she may ask you questions similar to those asked earlier.
WHN TIP – Missing Items: This will help the police in case they make traffic stops or see an individual with items similar to those taken from your home. Also, it is important to let the police know if any firearms or knives were in the home, which could mean that the suspect may be armed.
WHN TIP – Descriptions: It may be a difficult time to answer questions. However, if you did see a person in or around your home, details like the suspect's age, height, weight, hair color, clothing, etc., could help speed up the process.
WHN TIP – Other Occupants: They might ask for the names of any former roommates or other occupants of the house/apartment — they might have an extra key and so on.
When the Police Arrive
When the police arrive, ask if you can retrieve your inventory list to begin documenting the stolen property.
Look to see if anything has been moved from its original position but don't touch it! Tell the police so they can check it for fingerprints.
The police may also ask your neighbors if they saw or noticed anything.
Ask the investigating officer where you can obtain a copy of the police report.

Write down your case number
Make sure you write down the names and badge numbers of the police officers.
Police Officer's Name/Badge Numbers
How to Document Stolen Property
Do not touch anything until the police have arrived and completed their work.
Use your Home Inventory List to check to see if anything is missing or was damaged. Be sure to include a description of each item, its age, and the cost to replace it at current prices.
Make sure to check for jewelry, art, electronics, silver, cash and credit cards and other valuables.
WHN TIP – Look Everywhere: Remember to check areas you don't use very often such as the garage, shed, closets, attic, basement, etc.
WHN TIP – Hungry? Thieves might take food from the fridge or even medicine from the medicine cabinet. Write down what's missing/eaten (don't touch anything!) and notify the police. This might seem trivial, but it could catch your thief.
If any credit or debit cards, checks or personal information such as your Social Security or bank account information are missing, see our Identity Theft section.
Begin taking photographs and/or videotape your home and the aftermath of the burglary.
If the house or possessions have been damaged, make sure to take photos to show the overall context of the damage so that you can make your case to a claims adjuster. If you have prior pictures that could serve as documentation, gather these items for the insurance adjuster.
WHN TIP – Get Photos: If you don't have any photos, remember, relatives and friends may have taken photos of dinners, holidays or birthdays in your home.
Do not throw away any damaged goods until after an inventory is made. All damages are taken into consideration in developing your insurance claim.
After making a list of missing items, be sure to provide the police with a copy of your list. If you think of more items later on, be sure to let them know.
WHN TIP – Now I Remember…. The police may give you an additional loss form for recording additional missing items as you become aware of them. After you've filled it in as best you can, make a copy before turning it over to the police — you can also use it for your insurance claim. Keep additional copies for yourself.
Filing a Claim
WHN TIP – Track It: Start a folder and include in it everything relating to the burglary. Also, start an expense book to track all related expenses.
Read your policy. Your own insurance company must be contacted in the appropriate way with information regarding your homeowner's/ renter's insurance.
The insurance process will be easier to navigate if you know the details of your coverage. Check your policy for specifics and document every action you take.
Phone your insurance agent or a local company representative (or have a family member or friend do this). If you are calling them immediately after the incident, let them know that you don't have a complete list of the stolen property quite yet. Ask your agent about the recovery process, if they need to walk through your home with you, and if they will be working with the police department.

Date
Insurance agent/agency
Agent's Name
Phone (work) (cell)
E-mail
Your Policy #
WHN TIP – TToll-Free Don't have the number? Call toll-free directory assistance at (800) 555-1212 or (877) 999-6442 for the toll-free number to your insurance company.
Ask your agent how to proceed and what forms or documents will be needed to support your claim.
Document each conversation in your folder and include the following:

Date and time of phone call/meeting.
Person you spoke with.
Items discussed.
Find out what types of stolen goods are covered and which ones are not. Antiques, for example, are not always included in your policy.
Double-check your deductible.
Confirm whether you will be reimbursed for an item's replacement cost or what it was worth at the time it was stolen.

If your home was damaged, tell the insurance company exactly how and what steps you will be taking to prevent any further, immediate harm. Tell your agent you will call again to discuss remediation costs for any necessary work on the home due to the break-in.

When talking with your agent, be sure you outline the next steps, understand the deadline for completion of tasks, who is responsible for finding the vendors who will handle repairs, as well as who is paying for the service and repairs. This may be covered by your insurance policy.

The insurance company may require a proof-of-loss form, as well as documents relating to your claim, such as photos of items you're claiming and home repair bills.
Keep records of the expenses you incur as a result of a burglary. You may be reimbursed under your policy, and there may be tax deductions you can take because of your losses. Note on the receipt what was purchased and enter details in your expense book. If using a credit card, designate one card for post-event expenses, stapling all receipts to credit card statements for back-up.
Be sure to keep copies of what you are sending to the insurance company — don't give away your last copy!
WHN TIP – Renting? If you have renter's insurance, follow the Filing a Claim steps above.
WHN TIP – Tax Implication: Even if you don't have insurance to help pay for replacing stolen items, you may be able to file a tax deduction because of your loss, so documenting what was stolen and its value is still recommended.
WHN TIP – Damage Repair: Inform the property owner of any damage to the house/ apartment, especially any locks that need replacing or changing and other security concerns they should address immediately.
After the Burglary
After a few days or so, contact the police department to check on the status of your case. Be sure to have your case number ready.

Ask to speak with the detective who is assigned to your case.
Introduce yourself, state your case number and when the burglary took place.
Ask the detective about the status of your case. Is it open or closed?
If your case is open, ask if there are any possible suspects. Ask about the suspect's physical details or vehicle info.
Ask if there have been any more burglaries in your neighborhood.
Also ask if there is anything that you can provide to help with the investigation.
Remember, the police will do their best to follow up on the theft. However, it may not be possible to track down your stolen goods. Be patient.

Inform your neighbors. Tell them as much as you know about the burglary (what was taken, what time of day, what the person looked like, etc.).

Sometimes burglars target the same area or operate in the same ways, targeting garage doors or cellar doors, for example.
They may also have seen someone engaged in suspicious activity, such as lurking in the alley, before the break-in occurred. Such information could be helpful to the police.

If your home has been damaged, contact your mortgage company. Inform them of the type and extent of damage. Ask what steps you need to take, including when or if you need to contact them with an update.
If your doors or windows have been damaged, consider calling a contractor to help secure your property. Keep copies of all receipts.

Consider getting your locks changed on your doors and windows.
Get new sets of whatever keys were stolen and consider changing those locks, too (remember cars, boats, shed, safes, second homes, storage lockers, neighbor's home keys, etc.).
Consider installing a home security system or purchasing a home safe.

Stay in close communication with your insurance agent and update them on your progress and any other missing possessions you discover.

If your insurance does not cover your damages, there may be a state or local crime victim's fund that can be of assistance. Contact your local law enforcement agency or attorney general's office for possible resources.

Make a shopping and replacement plan.

Look at your list of what's missing, consider your resources (stay in touch with your insurance agent), and then prioritize your replacements.
This will help prevent impulse buys at the store. It will also help structure conversations with your insurance agent.
When it comes to heirlooms, give careful consideration to how you'd like to proceed. If a burglar shattered a one-of-a-kind vase from your mother, one that looks "just like it" may quickly turn into nothing more than an ever-present reminder of your loss. Consider honoring the loss of precious items in alternative ways, such as making a scrapbook.
Know that this may not feel like normal shopping. Consider bringing a friend and building fun or relaxing activities into your itinerary. Save your receipts.

If you have lost important documents, use our Records Recovery Checklist to track the replacement process.
If your goods are recovered, the police will notify you.

The police may hold the goods for a few days to test for prints or clues. Also, you may not be able to get your items back for a while — they could be held as evidence in a court case if the perpetrator is charged with a crime.
In order to get your property back, you must go to the police station and bring your ID and proof of ownership (home inventory list, receipts, photos, deeds, anything that proves that you own the item).
If you get your stolen items back and your insurance company has already paid your claim, it is your responsibility to tell the insurance company and let them know the police have recovered your items.

Be on alert. After a few months, you will have replaced your stolen items and thieves may return to steal the brand-new items.
WHN TIP – Recovery of Stolen Goods: If you find or recover your stolen goods on your own, remember to notify the police.
---
Remember …
The information provided here is not meant to be a substitute for professional legal advice. These tips are from first responders, lawyers, insurance agents and people who have shared real-life advice; always check with a lawyer or appropriate professional you trust before making any legal decisions.
Thank You …
A special thank you to the industry professionals, lawyers, insurance agents, first responders and people who gave us their time, insight and real-life advice.