Child-Proofing Tips: 5 Steps to a Safer Home for Little Ones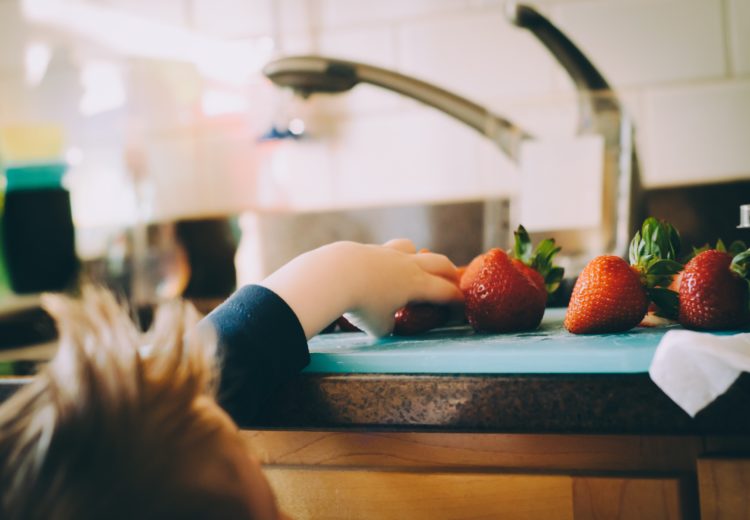 Kids are naturally curious and it's up to us to keep them out of harm's way.
April 29 is Safe Kids Day, created by Safe Kids Worldwide, but don't wait until that date to make the changes to keep your little ones safe.
Also, download the free RedCross first aid mobile app – just in case!
Step 1. Cut the Cord.
The window coverings' cord, that is. Faster than you can imagine, a child can strangle on a window cord, with the Parents for Window Blind Safety website citing the following ways these entanglements can occur:
Loops created by knotted or tangled cord.
One or more long cords which the child wrapped around the neck.
Loop above a single tassel of the cord.
Loop above the stop ball of the cord.
Loop created when pull-cord was tied to another object, usually on the wall.
The Window Covering Safety Council (WCSC) recommends using only cordless window coverings in homes where infants and young children are present. If that's not an option, check the Retrofit Your Windows page for instructions on retrofitting your existing blinds. (WCSC also has free retrofit kits available for order.)
Step 2. Check the Crib
Your grandma's crib may be a treasured family heirloom but that doesn't mean it's safe to use. Today's cribs must meet the safety standards of the Consumer Product Safety Commission (CPSC) and the Juvenile Products Manufacturers Association (JPMA). The standards include regulations that address many factors related to crib safety including a prohibition on the manufacture or sale of traditional drop-side rail cribs.
The crib should have a firm, tight-fitting mattress (never use an air mattress!) covered with a fitted bottom sheet specifically made for crib use. Skip the pillows, quilts or comforters and use a sleeper instead.
Step 3. Fix the Furniture
Kids are natural-born climbers and can't resist trying to get on top of dressers, chests and other pieces of furniture. But even a lightweight youngster can cause a tip-over, which is why the CPSC recommends anchoring furniture and TV stands to the floor or wall with appropriate hardware.
Other safety tips include covering all electrical outlets, using open bins for toys, making sure changing tables have safety straps and keeping cords and items out of the little one's reach.
Step 4. Watch the Water
Inside and out, water can be a safety hazard to your little ones. Never leave a child unattended in or near water, and that includes bathtubs as well as outdoor pools since children can drown in only a few inches of water. Cushion the faucet so they don't get hurt bumping into it and install no-slip strips on the bottom of the bathtub.
Outside, check your pools and spas for drain covers that are compliant with the Virginia Graeme Baker Pool & Spa Safety Act (VGB Act). Install proper barriers, covers and alarms in and around the pool area.
Step 5: Monitor All Magnets
Kids are entranced by the action of magnets, but too often those magnets can find their way into your little one's mouth and intestinal system. This can lead to serious injury, says the CPSC. Keep any small magnets away from children younger than 6 years old, particularly if the child has a tendency to put objects in his or her mouth, and supervise the use of any tools or objects that include magnets.
WHN TIP – Recall Updates: At the U.S. Consumer Product Safety Commission website, you can sign up for recall notices. And before you put that hand-me-down or garage sale item into use, check CPSC for any warnings or alerts. To report a dangerous product or a product-related injury go online to www.SaferProducts.gov or call CPSC's Hotline at 800-638-2772 (TTW 301-595-7054). You can also obtain news release and recall information at www.cpsc.gov, on Twitter @USCPSC or by subscribing to CPSC's free e-mail newsletters.
---
For More Information
Safe to Sleep® – Crib Information Center — part of the U.S. Consumer Product Safety Commission website, this section has safety tips and videos about how to put your baby to sleep safely.
Sleep Safety and Suffocation Prevention Tips — from Safe Kids Worldwide, recommendations for ensuring your baby's bedroom is safe.
Child Proofing a Room — from the Window Coverings Safety Council, safety tips for decorating children's rooms.
Pool Safely: Simple Steps to Save Lives — from the U.S. Consumer Product Safety Commission, a national public education campaign to reduce childhood drownings, submersion injuries and entrapments.
5 Bathroom Safety Tips for Infants & Young Children — from HealthyChildren.org (part of the American Academy of Pediatrics), simple tips to childproof your bathroom and prevent injuries.