6 Spring Cleaning Safety Tips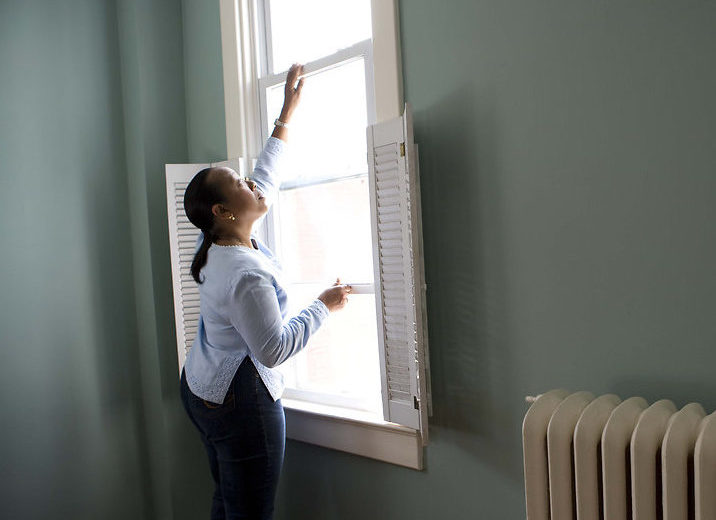 With warm weather comes time for all those spring-cleaning chores to be completed.  These six tips will help your home recover from any damage and keep it safe and secure for the upcoming season.
Inside
1. Change your furnace filter.
Chances are, it's time to check your filter. When a filter is dirty, it won't purify your home's air and reduces your HVAC system's efficiency. Read your owner's manual if you're not certain what size to purchase or how to remove the old filter and install a fresh one. Mark the date on the new filter, then check it at least every two months.
WHN TIP – Choose the Right Size and Type
Allergies a problem? Disposable pleated paper filters, reusable electrostatic filters or "antimicrobial" or "high efficiency particulate air" (HEPA) filters might be a better choice. (MERV Ratings: What Do They Mean? explains how to choose the right rating.)
2. Schedule a HVAC check-up.
If you haven't had your system checked in the past year, it might be a good idea to schedule a service call to give it a once-over. Why? According to Black Diamond, regular maintenance can lead to lower energy bills, fewer repairs, reduced risk of major breakdowns, longer equipment life, and most, importantly, a safer environment for your family.
The service tech will check both the inside unit and any outside units for the following:
The insulation on refrigerant lines for damage or leaks
Refrigerant levels
Electrical components and controls, condenser unit
Condition of motor, evaporator and condenser coils
Thermostat calibration (If needed, change the battery)
Cracks in the heat exchanger that can lead to carbon monoxide leakage
For more tips, read HomeAdvisor's Air Conditioning Check Up 101 and Central HVAC Maintenance – Tips & Advice.)
3. Replace batteries in smoke detectors and carbon monoxide monitors.
Read the owner's manuals to find out when you should change the batteries and what type to use. Even hard-wired detectors have back-up batteries in them in case the power fails.
If your detector is the lithium-battery type, it can last up to 10 years. When it starts to "chirp" to alert that the battery is failing, buy a new unit.
WHN TIP – Never Go Without
Make sure that your home is equipped with enough smoke and carbon monoxide detectors, and replace the batteries as soon as they start to fail. Don't render your alarm inoperable because you forgot to put batteries in it!
Learn more at Installing and maintaining smoke alarms and Carbon Monoxide Detector Placement.
4. Clean your dryer.
All those heavy winter clothes and blankets can cause a build-up of lint that can lead to fire. And where is that lint? Hiding inside your dryer and its venting system.
Besides cleaning the lint trap, you should also clean the lint trap housing and the ductwork, using a special vent cleaning kit just for that purpose. Note: always unplug the dryer and turn off the gas valve at the dryer (for gas units) before cleaning.
(For a step-by-step demonstration, go to Cleaning Your Dryer Vent Can Reduce Fire Risk.)
Outside
5. Clean the gutters and check downspouts.
A hard winter with lots of snow can cause gutters to shift away from the house. Do a visual check to ensure that they are all tightly fastened and that the downspouts are in place.
Then clean out any debris from inside the gutters, before spring rains cause them to overflow right into your foundation and basement.
6. Check ground level around the foundation.
While you're doing your walk-around, check to make sure that the ground or flower beds slope away from your foundation—6 inches for the first 10 feet or a slope of 5%.
Heavy snows or rain can wash the dirt away and cause the area to level out or even slop toward the house increasing the risk for water damage. (This article from The Spruce tells you how to check the slope.)
WHN TIP – Learn Ladder Safety
Download the National Institute for Occupational Safety and Health Ladder Safety App for advice on extension and step ladder safety. The free app is available for both iOS and Android devices.